Proposition G
April 27, 2012 (La Mesa) -- A volunteer citizens group that is overseeing how the taxpayer-supported Grossmont Healthcare District (GHD) is spending millions of dollars in voter-approved public financing for infrastructure improvement construction projects at Grossmont Hospital in La Mesa has issued its 2011 Annual Report to the Community.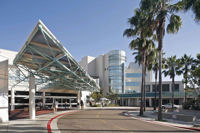 By Jim Stieringer, La Mesa
February 9, 2012 (La Mesa)--In 2006 East County voters approved Proposition "G" authorizing the sale of general obligation bonds of $247 million to provide and improve various facilities at Grossmont Hospital. Included is an expansion of the hospital's central energy plant. The Grossmont Healthcare District is now considering adding a cogeneration feature to the plant to be acquired through a "lease/purchase" agreement for $17,900,000 to be paid over a ten year (120 month) period at a rate of around $2,000,000 per year.