local radio
San Diego Community Radio Project also gets set to launch from Descanso; seeks funds and volunteers
By Miriam Raftery
April 21, 2012 (San Diego's East County) –"Every once in a while, government does something that is not only good news, but refreshing," local author and former public radio producer Walter Carlin said of last month's decision by the Federal Communications Commission (FCC) to open the airwaves up for community radio stations, rather than reserving that space for mega-networks with concentrated ownership and opinion-shaping power.
The decision, however, presents a new challenge, Carlin notes. "Can and will local radio respond?"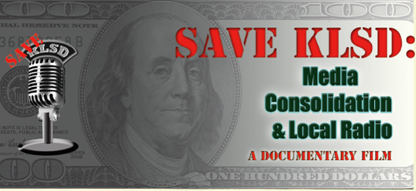 "Save KLSD" film showings April 28 and May 19
By Miriam Raftery
April 21, 2012 (San Diego) – How does media consolidation impact American democracy? The producers of the new documentary film Save KLSD: Media Consolidation and Local Radio present a case study suggesting that politics, not ratings, forced the San Diego region's only progressive talk radio station off the air.
Two screenings of the film will be followed by question and answer sessions with producers John Monday and Jennifer C. Douglas, as well as radio host/narrator Jon Elliott and Shaun Spaulding of New Media Rights.