California Note Catchers
By Millicent Arko
December 6, 2011 (National City) California Note Catchers invites you to celebrate the joy of the season on Sunday, December 11 at 2 p.m. with a festive afternoon of musical entertainment.
GROUP WILL SERENADE YOUR SWEETHEART FEB 12-14: LIVE OR ON THE PHONE!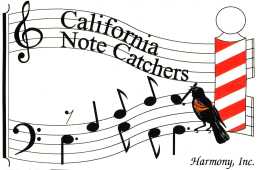 By Miriam Raftery
February 6, 2010 (La Mesa) – Looking for an inspired way to say "I love you" to that special someone? California Note Catchers is offering singing valentines February 12, 13 and 14. For $40, the women's a capella singing group will deliver two love songs, a single rose and a valentine card in person. Or send a singing phone-gram to your valentine for just $10.